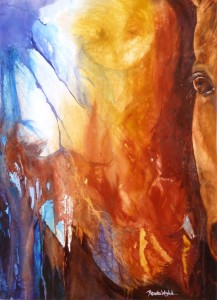 After spending many hours working on my detailed purple hot rod painting, it was nice to go back to what I also love and that is experimenting with abstract watercolour.  I really enjoy expressing myself in colour, shapes and texture, and with watercolour I find I have the extra bonus of pleasant little surprises on the way because of its unpredictability.  The painting I created recently – "Spirit of the Outback" was done on a full sheet of 640 gsm watercolour paper.  640 gsm paper is a bit more expensive to buy so I only treat myself every now and then, but when I work on it, I'm like a kid with a new toy!  I don't have to stretch the paper because it's so thick, so that means I'm able to get straight into the painting without waiting for paper to dry!
This painting started off on it's side (landscape style).  I used four of my favourite watercolours – cobalt blue, cerulean blue, yellow ochre, and burnt sienna to start off, just laying down colour above colour and then moving it around a bit with a brush.  I always stand back from my paintings regularly to make sure they are "working" with regard to balance, tone, and texture, and I often turn the paper around if the piece I'm working on is an abstract.  Sometimes the painting can look better a different way around.  And that's exactly what happened with this painting.  I saw the beginnings of a horse face on the far right hand side so I thought I'd develop that.  Other horse-like figures developed along the way too so that's what it had to be.
I feel it has quite an Australian feel to it and I'm pleased with that as I'm very happy to be living in this great country!    How long did it take me to paint?  One day, give or take a few hours.  And every second that I spent on it was enjoyable.  That's how painting and being creative should feel!