CORONAVIRUS (COVID-19) INFORMATION
During this time of uncertainty, I would like to reassure you that I am taking the COVID-19 pandemic seriously and the health and safety of my students is important to me. Upon arriving at class there is a hand sanitising station to use before entering and again when you leave. I also spray the room with disinfectant and wipe all surfaces with disinfectant before and after class. There is a maximum of eight students per class, and you have your own table to work at, with the required space between each student.
Watercolour Workshops July 2020
Are you:
Time-poor?
Unable to commit to a term of classes?
Unsure if watercolour is for you?
Keen to do some workshops in between terms?
Why not try one of the following workshops in July. Each workshop is suitable for all skill levels.
Fri 24 July – Feathered and Furry Friends. Choose your bird or animal and create a masterpiece, focusing on feathers or fur, and capturing their unique facial expressions. BYO picture or use one of mine. ** 2 spaces left **
Sat 25 July – Landscape. Landscapes are all around us and it's a subject that most artists want to capture at some time. BYO landscape picture or follow along with me as I show you how to paint an impressive sky, add some hills, trees and a solid focal point.
Sun 23 Aug – Peacock Spider field trip and workshop. This is a full day workshop, commencing in the morning with a field trip led by local scientist – Dr Mathew Hourston – who will teach us about peacock spiders, why they have suddenly become so popular, where to find them, how to find them, and how to photograph them. We'll have a short lunch break then head back to the Orange Palette for an afternoon workshop, painting one of these gorgeous creatures! This workshop is not to be missed!
Time: 9.30 am to 1.30 pm
Venue: The Orange Palette, 1A/31 Berriman Drive, Wangara WA
Cost: $70 (includes tuition and morning tea. Equipment extra). Hire fee of $25 if hire of equipment is require
Note: the Peacock Spider workshop is $140 and will run from 9.30 am to 4.30 pm.
To enrol, contact me at renatawrightart@yahoo.com.au or 0450 524 229.
Watercolour Classes August/September 2020
** Numbers limited to 8 students per class, so book in early to avoid disappointment. Payment is required one week prior to start date.** 
Mondays – 9.30 am to 12.00 noon (All skill levels) FULL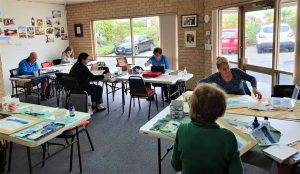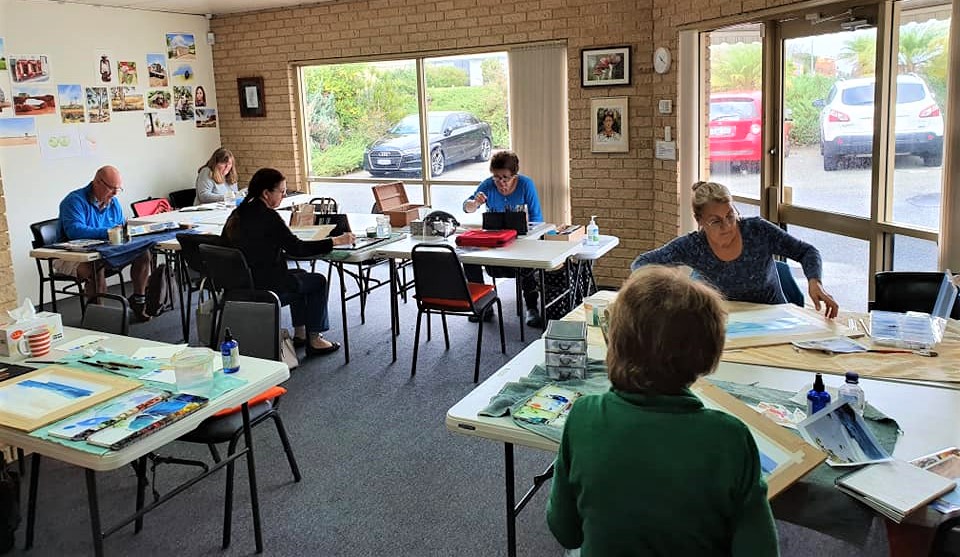 03, 10, 17, 24 Aug, 07, 14, 21 Sep
Mondays – 12.30 to 3.00 pm (Beginners) 3 spaces left
03, 10, 17, 24 Aug, 07, 14, 21 Sep
Wednesdays – 6.30 pm to 9.00 pm (All skill levels) 1 space left
05, 12, 19, 26 Aug, 02, 09,16 Sep
Fridays – 9.30 am to 12.00 noon (All skill levels) FULL
07, 14, 21, 28 Aug, 04, 11, 18 Sep
Saturdays – 9.30 am to 12.00 noon (All skill levels) FULL
01 08, 15, 22, 29 Aug, 05, 12 Sep
Saturdays – 12.30 pm to 3.00 pm (All skill levels) 3 spaces left
01 08, 15, 22, 29 Aug, 05, 12 Sep
Cost – $220 for 7 weeks (ongoing students take $20 off)
Venue – The Orange Palette, Unit 1a/31 Berriman Drive, Wangara
Contact me on 0450524229 or renata@renatawrightart.net to enrol.
Travel Sketching Trip to Kangaroo Island – October 2020
This year I'll be travelling to Kangaroo Island with a small group of budding artists, to capture some beautiful scenery in our travel diaries. I chose Kangaroo Island because it was badly affected by bushfires in December and January, and I'd love to help the community get back on its feet. Although a large portion of the island burned down, there is still so much to enjoy and paint, so why not come with me? Details of the tour are on the Aussie Redback Tours website – Kangaroo Island Art Trip with Renata Wright. 
Private Painting Lessons
I also teach private watercolor painting classes, for those aspiring artists who don't like being confined to a class environment, or whose work requirements are not that flexible.  If you are interested in private one-to-one watercolour lessons, the cost (including materials, and payable in advance) is:
$120 for 2 hours
$160 for 3 hours
$190 for 4 hours
Contact me at renatawrightart@yahoo.com.au or call me on 0450 524 229 to book your first session.
Painting Classes FAQs
Do I need any experience to attend your watercolour painting classes?  This is the most common question I am asked.  No, you do not need any experience at all to attend my classes.  My classes are designed so that you can follow along step by step when you are new to watercolour and later as you progress, I encourage you step outside of your comfort zone and experiment with colours, shapes, brush strokes etc to develop your own style.
Is watercolour a difficult medium to work with?   Yes and no.  The only difficult thing about watercolour painting is that you need to plan a little bit more because watercolour does not allow you to make too many mistakes.  I do share my tips on how to correct mistakes so you have nothing to worry about though.  Watercolour can actually be quite easy to work with as its unpredictability can actually be a wonderful happy asset when painting, which means it often does the work for you without you even realising it!
What benefits will I receive from painting in watercolour?   The sky's the limit with what you can achieve once you start painting in watercolour.  The learning journey itself can be such a pleasure because you suddenly notice things differently around you and you start to wonder how you will paint something – what colours you'd use, how you'd capture the light and the shadow etc.  It's amazing how painting can be great for your health.  Painting can be so therapeutic and you'll find you'll get lost in your own world at times as you squeeze out your paints, mix with your brush and dab, splash and stroke away.  The social aspects are fantastic too.  Many friendships have been formed in my classes, and everyone is helpful and supportive.  You'll feel like part of a family in my classes.
Should I be able to draw first before I attend painting classes?  No, it's not absolutely necessary.  At each class I hand out the picture that we'll be painting from in the following class.  That will give you a week to draw the picture at home so that you can get straight into painting once you come to class the following week.  I give advice on how to draw the tricky bits and make changes so that the picture is more interesting.  Most of my pictures are adaptable which means you can leave out parts that are too hard to draw and you can add other bits instead.  For example, if we are painting the ocean, you could leave out any people on the beach and just add a seagull or two in the sky.
I'm nervous when painting around others.  How friendly are the other students?   My classes, whilst remaining structured, are also informal and friendly.  Everyone is made to feel welcome and everyone works at their own pace so there's no pressure to turn out a masterpiece every time.  I have noticed too, that students love to share information with others so if you're stuck on anything, your painting neighbour is more than likely to tell you about a time when they had the same problem and how they fixed it!  We have lots of laughs in our class, and yet there are also moments of silence when each person has their head down in deep concentration.
Are the watercolor painting classes just for women or can men attend too?  My classes are for men AND women, regardless of age, experience, and background.  The men who attend my classes are sometimes outnumbered but they never feel left out or intimidated.  In fact, most of them enjoy having so many women around them and there is often lots of "women vs men" banter thrown about!