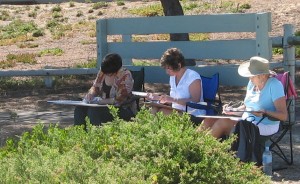 These days you hear a lot about the need to get outdoors more and get your dose of Vitamin D.  I know I do, because I do spend a fair bit of time in my studio painting because it's comfortable and convenient.  I think though, that it's time I got out and painted outdoors more often.  There's a whole different experience to be had when painting outdoors (you might have already read an earlier post about a free outdoor workshop that I held), from the battling with the elements, and the interested onlookers, as well as the changing light and weather.  But at the same time, there's nothing nicer than being out amongst nature, smelling the trees or the salty air, listening to the birds or children playing nearby, and sharing your passion with those who happen to be walking by.  Many onlookers like to feel like they've been part of your outdoor experience and they often love to stop and chat.  You never know who you'll meet and what conversations you'll have (conversations that you'll never have at home with yourself.  Well, you might, but that's another story altogether)!
Anway, I have decided to form an outdoor painting group (or if you want the more "arty" term, an "en plein air" group!  My newsletter subscribers will already know about the group but I thought I'd post it on my blog as well.  So, if you live around the Joondalup area or are keen to paint outdoors within a 30 km radius of Joondalup, please contact me for more details on where our next outdoor painting session will be.  It's nice to paint with others because you can inspire one another, there's safety in numbers especially if you're a bit shy, and it's a lovely social experience too.
The outdoor paint-outs will be held every second Monday morning (chosen to hopefully include some Monday public holidays when people who usually work on this day, may have a day off and might light to paint with us), and the first session will be on Monday 16th June in Neerabup.
Drop me a line at renatawrightart@yahoo.com.au if you're interested, and I'll put you on the email list.  Looking forward to some fun outdoor art being created!