Finished, approved, and gifted……
Just recently I received a commission from Pili who wanted to give her husband a painting for his 50th birthday.  He'd been trekking in Nepal and had come back with such wonderful memories that his wife thought it would be appropriate that he have a larger memory permanently on a wall in their home.  So after some emails, phone calls, dropping off of USB with pictures, and about 20 hours of preparation and painting, this is the end result!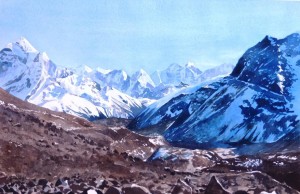 Here is the response I received by email this week:  "I gave Mark his painting and he was rapt.  The detail in the smallest rock is amazing.  Thank you so much.  One friend actually thought it was a photo print at first glance."
Well, thank you too, Pili, for giving me the opportunity to paint a snow scene for a change.  I enjoyed every single moment of the process.
Commissioned work can sometimes be quite daunting because what the artist has in mind might not be quite what the buyer has in mind.  A happy mutual ending is always a huge relief!